Movement for a United South Africa
Uniting South Africans in Advancing Socio-Economic Justice
Our mission is to enrich the consciousness and activism of a broad range of organisations and communities to transform South Africa into a harmonious, ethical and prosperous society with dignity for all.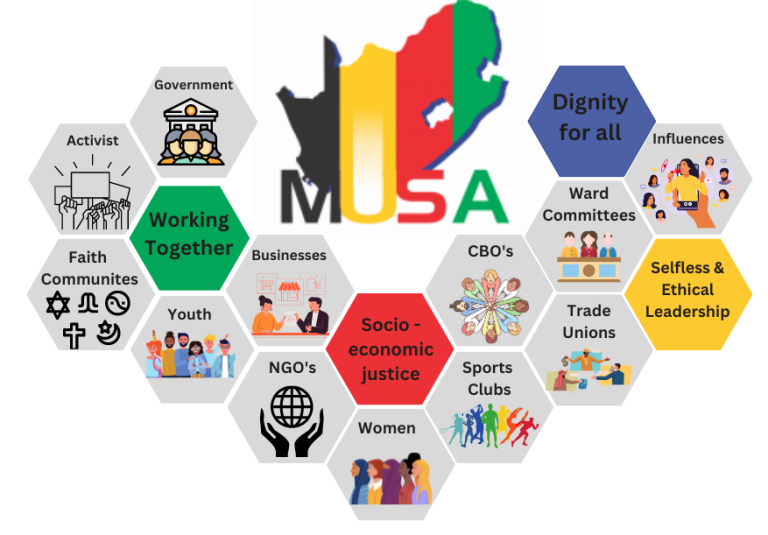 Be part of the Transformative Consciousness movement by driving change in your organisation, sector or local community.
South Africans from various racial backgrounds, faith groups, sectors and communities uniting for the greater good of the country.
Elevate your consciousness and activism to transform society.
Act with universal values of mercy, compassion, justice, human solidarity and South African patriotism.
Socio-Economic Justice - Rectifying our past & building our future so that the most marginalised & vulnerable are uplifted and there is dignity for all.
Transformative Consciousness – Living with awareness & acting to affect major improvement in our human condition at personal, family & societal level.
Transformative Consciousness – Living with higher purpose & selfless action. Moving beyond a material focus towards holistic enhancement of emotional, psychological & spiritual well-being of society.
Promoting Righteous actions and Ethical conduct.
Unity is strength.
South Africans from different backgrounds and sectors of society must work together and be more united in order to overcome the many challenges that we face as a country.
A movement made up of individuals and organisations that embrace a moral ethos in improving and enhancing their own conduct and actions can be a powerful driving force for societal change.
We can't help everyone,
but everyone can help someone